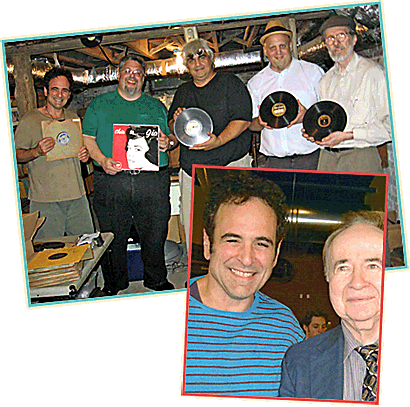 Top: Joe, Summer 2008 at the Archive with fellow 78 RPM record collectors. From l-r JOE, BOB GUIDA, PAT CONTI, JOHN HENNIGAN and cartoonist R. CRUMB
Bottom Right: JOE and his "Mentor" JOE FRANKLIN (2006)
Why Sell Your Vintage 78 RPM Records to Joe Lauro?
IMMEDIATE CASH PAID.
FAST COURTEOUS SERVICE
WILL TRAVEL ANYWHERE FOR THE "RIGHT" COLLECTIONS. WE RECENTLY TRAVELLED TO HOLLAND TO PURCHASE A COLLECTION OF 3,000 VINTAGE 78 RPM RECORDS.
30 YEARS OF IMPECCABLE SERVICE AND REFERENCES
If you think you have the antique 78 RPM RECORDS WE BUY, send us an email with: label name, artist and catalog number. LAUNCH ANATOMY OF 78 RPM RECORD LABELS to help you find this info. Or you can download our 78 RPM RECORD INFO FORM (PDF). After we review your list, we will contact you.
About Joe Lauro 78 RPM Record Collector
Vintage Shellac, Victrola and 78 RPM Record Collector
Joe Lauro has been collecting Vintage Shellac Records, Victrola Records and 78 RPM Records for 40 years. His collection of old 78 RPMs is known as one of the best in the world for circa 1925-1935 Jazz, Blues, Gospel and Country Music 78RPM Records.

Since 1975, Joe has held bi-monthly auction lists of duplicate records or recordings which he does not collect. He also sells old 78 RPM recordings from other collectors on consignment. His auctions are legendary amongst the small world of Vintage Shellac Record collectors.
Joe's interest in old 78 RPM Blues, Jazz, Gospel and early Country music records began as a child. Home from school one day with the flu he turned on the old JOE FRANKLIN SHOW "MEMORY LANE". Franklin, was a film and record collector and ran on the program a circa 1930 short film featuring EDDIE CANTOR... something about that film struck Joe and he began staying up late at night waiting for old re-runs of Eddie Cantor and Al Jolson films... and then, at age 15 began searching the local Antique stores (on his bicycle!) for their old Phonograph Records... I guess you can say it exploded from there!
If you want to sell your old 78 RPMs, Joe wants to buy them for his Vintage Shellac Record, Victrola Record and 78 RPM Record collection.
BE SURE TO SEE our 78's WE BUY and 78s WE DON'T BUY pages before contacting us.